Prof. Ben Shneiderman hat in den 90ern Baumkarten zur Visualisierung von Daten erfunden. Eigentlich aus einer Not heraus. Inzwischen lässt er aber auch Schmückendes aus diesen Visualisierungen herstellen: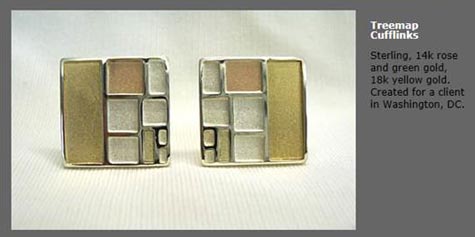 (oben: Baumkarten-Manschettenknöpfe(!))
Er hofft immer noch darauf, dass der Aspekt der Kunst hier durchscheinen möge. So sieht er seine Op-Art-Einflüsse aus den 60er- und 70er-Jahren hier drin, außerdem findet er, dass jeder Betrachter die Anordnungen anders sehen kann. Und schließlich vergleicht er die zukünftigen Bestrebungen in diesem Bereich mit populären Künstlerideen:
"Colored rectangular regions have been a popular theme in 20th century art, most notably in the work of Piet Mondrian, whose work was often suggested to have close affinity with treemaps. Not all his designs are treemaps, but many are. His choice of colors, aspect ratios, and layout are distinctive, so simulating them with a treemap is not as trivial as you might think. Gene Davis' large horizontal paintings with vertical stripes of many colors were more easily generated with treemap layouts. The rectangles in Josef Albers "Homage to the Square" or Mark Rothko's imposing paintings are not treemaps, but generating treemap variants triggered further artistic explorations. Other modern artists such as Kenneth Noland, Barnett Newman, and Hans Hofmann gave further provocations to the images in this collection."
[via]
Also, was in dem Textauszug oben steht ist eben, dass bekannte Künstler aus dem vorigen Jahrhundert* sich bereits mit Formen dieser Baumkarten beschäftigt haben, ohne dass es zu einer konkreten Bezeichnung kam. Das läuft ja oft so in der Kunst, dass sie revolutionär wirkt, visionär und ihrer Zeit voraus, es aber niemand rafft (außer vielleicht die Künstler selber, doch selbst die hellsten Köpfe waren dazu oft nicht in der Lage). Sowas muss eben auch irgendwann mal artikuliert werden, etc.
Wen die Zukunft von Baumkarten und auch deren künstlerische Interpretation interessiert, der sollte den VIA-Link also im Auge behalten. Sind so oder so sehr viele interessante Verknüpfungen verbaut.
Wen die Kunst jetzt nicht interessiert, der kann sich das Tool, um Baumkarten von Datenbeständen zu machen, auch herunterladen: http://cs.umd.edu/hcil/treemap. Es ist kostenlos, steht jedem zur Verfügung und ist ein klasse Einstieg.
Die Galerie bereits erstellter Grafiken: http://treemapart.wordpress.com/category/draft-designs/.
*Erwähnte Künstler: Piet Mondrian (netter Bart…), Gene Davis, Josef Albers, Mark Rothko, Kenneth Noland, Barnett Newman, Hans Hofmann.