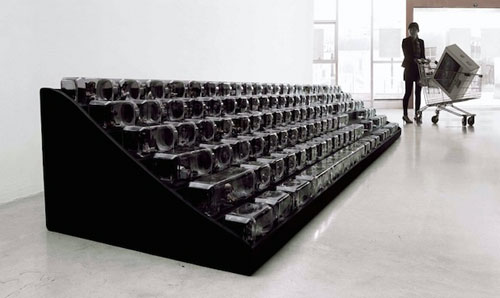 Unwichtig ist dieses Kunstprojekt hier keinesfalls, doch am Ende hängt es doch an jedem Menschen selbst, was er aus seinen Möglichkeiten macht:
http://fubiz.net/2014/10/15/the-keyboard-of-isolation/.
Der Slogan erinnert so ein bisschen an Kriegszeiten: "Go online and family is isolated". Wisst ihr, wie auf diesen Retro-Propaganda-Postern.
Die Beschreibung darunter lautet im Original:
"What you see is 36 real-life families isolated in 115 keys. In reality, there are many more isolated families. With half a billion netizens in China, many are unaware of how being online can alienate their family members. This installation features 115 9cm-tall human figurines – crafted in the likeness of 36 real-life families – each isolated in various glass jars arranged in the form of a keyboard. Through this installation, we encourage everyone to spend less online time and more family time."
Leider wurzelt das Problem viel tiefer und ist nicht nur auf die eigene Familie beschränkt. Oder wann wart ihr das letzte Mal in einem Wald oder einem Museum? Eben.
Am Ende, da wiederhole ich mich gerne, macht es selbst besser! Denn:
"Do you wanna get isolated? Because that's how you get isolated!"
Beweg' deinen Arsch, Nutte!