:: Introduction
I think of Neuromancer as a pretty complicated novel. Written in 1984 by William Gibson it is one of the earliest pieces of literature of cyberpunk genre, part of its Kanon today, so to speak. Anyone interested in cyberpunk will encounter it sooner or later. And anyone could read something different in it. Part of it, it's written from the future and not only covers artificial intelligence, hacking, virtual worlds/cyberspace, drugs, ROMs; you could go on and still not grasp the vastness here. After reading, I was not really sure if even Gibson understood what he published here. But we are cool with it, as this is another factor for one's sympathy for this 271-pager.
Today, there are websites which aggregate the most popular quotes like the one from Goodreads here. I'm pretty sure with some of the text snippets alone, you will have problems not only from semantics perspective but also from the vocabulary alone. This is innovative and futuristic but hinders a reader from truly enjoying it. Nevertheless, the cryptic groundwork was taken often as the basis for some nice artwork pieces, like the 48-page graphic novel released in 1989 by Tom de Haven and Bruce Jensen. Heck, I even think, as I own the graphic novel too and read the novel first, that you might be better off with the graphic novel and leaving the book all alone. Although I won't recommend it, as you know, we are all cyberpunks ourselves here.

:: My proof of concept
No matter how complicated and exotic the text, I thought this would be a perfect basis for some of my further experiments with machine learning artwork generation. I thought maybe it's better just to leave my hardware alone: should my GPU make sense of these lines now! We are 2022, with engines like Stable Diffusion and a recent laptop, this sounds like a piece of cake! So I took the most popular quotes from the novel, the ones which made sense in creating something which a reader's mind could have difficulties with, and let it run through my (laptop) GPU. I picked the best one from three which were created simultanously per quote in approx. three minutes. Without further ado, let's check the results here! You can click on the pictures to see the original size. Enjoy!
:: Neuromancer vs. my GPU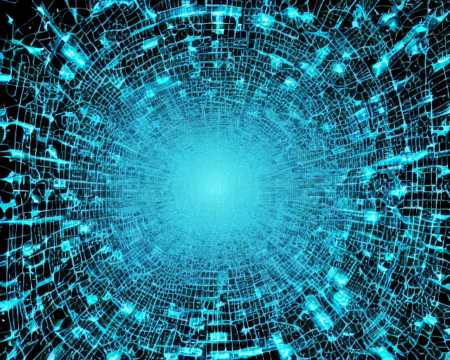 "Cyberspace. A consensual hallucination experienced daily by billions of legitimate operators, in every nation"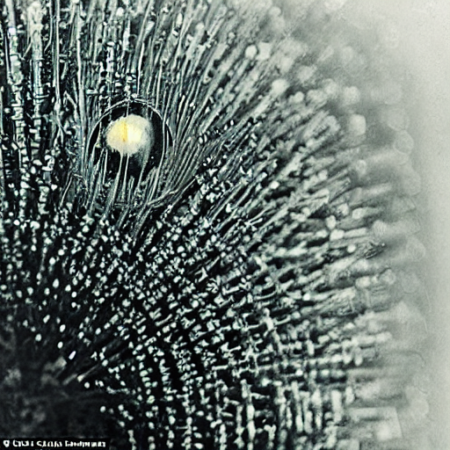 "His eyes were eggs of unstable crystal, vibrating with a frequency whose name was rain and the sound of trains, suddenly sprouting a humming forest of hair-fine glass spines"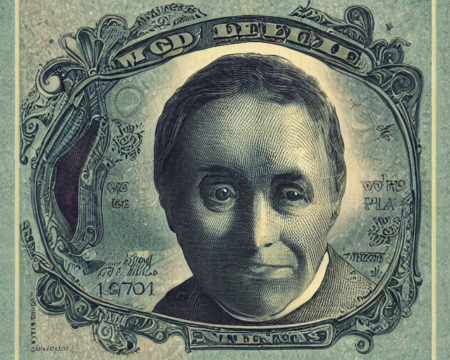 "We have sealed ourselves away behind our money, growing inward, generating a seamless universe of self"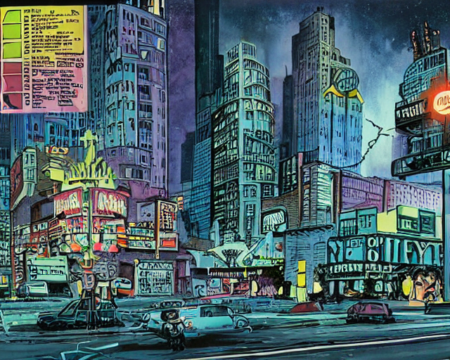 "Night City was like a deranged experiment in social Darwinism, designed by a bored researcher who kept one thumb permanently on the fast-forward button"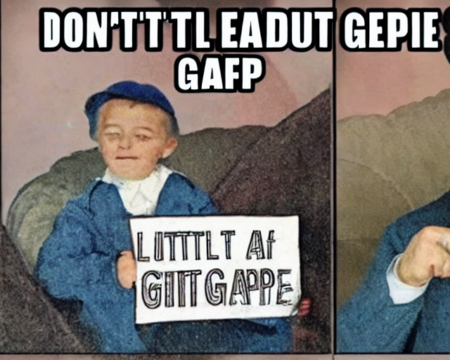 "Don't let the little fuckers generation gap you"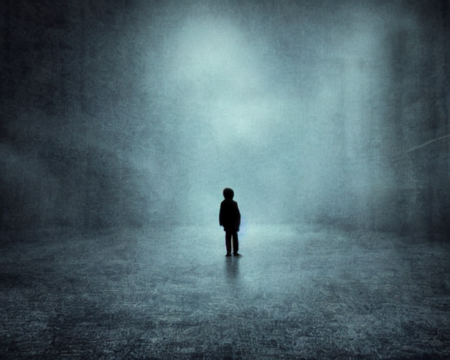 "Lost, so small amid that dark, hands grown cold, body image fading down corridors of television sky"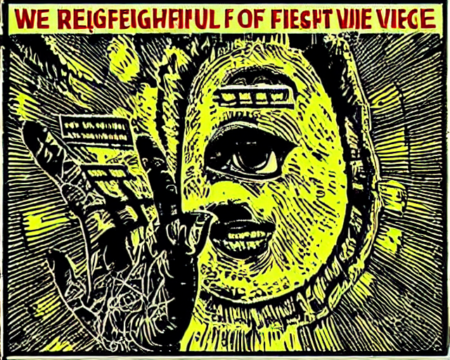 "We monitor many frequencies. We listen always. Came a voice, out of the babel of tongues, speaking to us. It played us a mighty dub"

"And in the bloodlit dark behind his eyes, silver phosphenes boiled in from the edge of space, hypnagogic images jerking past like a film compiled of random frames"

"Case shuffled into the nearest door and watched the other passengers as he rode. A pair of predatory-looking Christian Scientists were edging toward a trio of young office techs who wore idealized holographic vaginas on their wrists, wet pink glittering under the harsh lighting"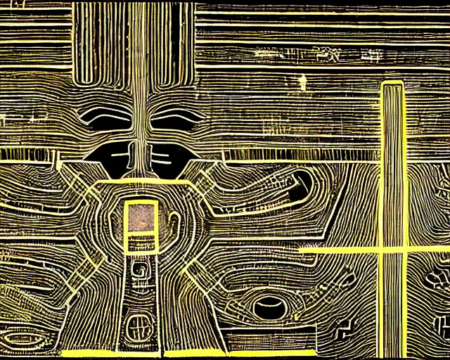 "His vision crawled with ghost hieroglyphs, translucent lines of symbols arranging themselves against the neutral backdrop of the bunker wall. He looked at the backs of his hands, saw faint neon molecules crawling beneath the skin, ordered by the unknowable code"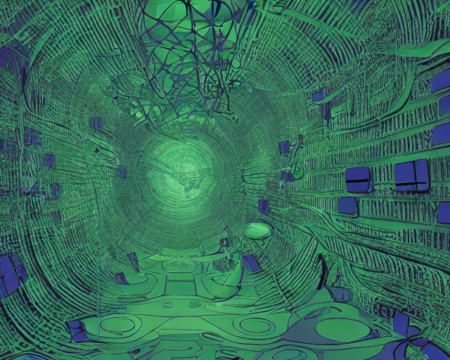 "The Matrix has its roots in primitive arcade games,' said the voice-over, 'in early graphics programs and military experimentation with cranial jacks.'"

"INTO HER DARKNESS, a churning synaesthesia, where her pain was the taste of old iron, scent of melon, wings of a moth brushing her cheek. She was unconscious, and he was barred from her dreams"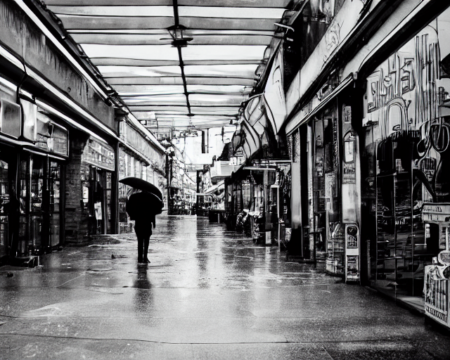 "Rain woke him, a slow drizzle, his feet tangled in coils of discarded fiberoptics. The arcade's sea of sound washed over him, receded, returned. Rolling over, he sat up and held his head"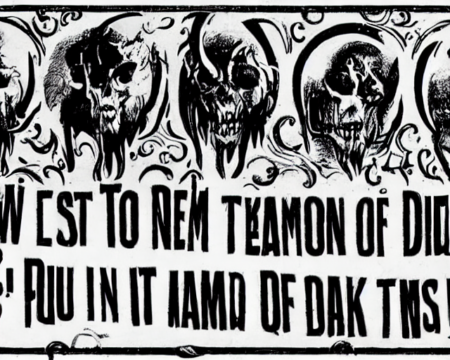 "To call up a demon you must learn its name. Men dreamed that, once, but now it is real in another way. You know that, Case. Your business is to learn the names of programs, the long formal names, names the owners seek to conceal"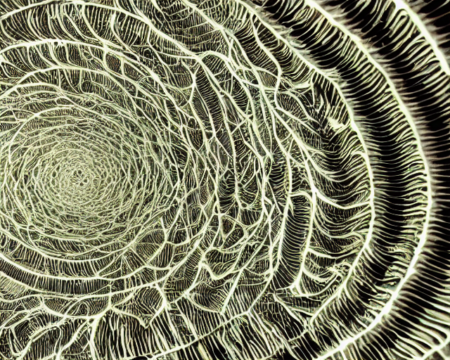 "It was a vast thing, beyond knowing, a sea of information coded in spiral and pheromone, infinite intricacy that only the body, in its strong blind way, could ever read"

"Wintermute was a simple cube of white light, that very simplicity suggesting extreme complexity"
:: Outro
I was happy that my POC was a success, of course. And I was also pretty convinced by what my graphics processor could make of those rather difficult novel lines from the 80s in our current times. However, I also see some difficulties when StableDiffusion tries to render certain things: like human appearance, as oftentimes it outputs strange limbs and also faces, especially around eyes. Same goes for text, as seen in some of those (rather grotesque) examples. Both problems could be shared with other tools like DALL-E 2 or Imagen though, I never tried those before. It's a very young brand new technology of course, this is common. From artwork perspective, I also am not sure if this is really a problem. Furthermore, I think this is a perfect example for what we do from read-write culture. Which can't be emphasised enough nowadays, because what we originally intended back then, generate reciprocal relationship between the producer and the consumer, wasn't taken up by people as we intended. Like ever. Stupid, unreasonable consumerism won, unfortunately. As such, this might be not the last project of its kind I did by myself, as I got enough books in my private library which could need clarification visually. But in the history of the web, probably very much so. Let me know what you think in the comments, hope you had a great time exploring this!