Bitcoin und Julian Assange sind wohl die derzeitig bekanntesten Schlüsselworte zum Thema Cypherpunk. Die Bewegung selbst ist relativ jung und hat Wurzeln bis mindestens in die 70er des vorangegangenen Jahrhunderts: Kryptographie-Experten entdeckten die asymmetrische Verschlüsselung in digitaler Form. Eine Geheimdienst-Technik, die nie öffentlich werden sollte und es doch wurde, dank auffälliger "Krypto-Anarchisten", die den Code zur Not gekritzelt in Büchern außer Landes schafften.
Ausgehend von dieser Sachlage beleuchtet der Riesentext "Rise of the Machines: A Cybernetic History" von Thomas Rid die ausgehende neue Digitalrevolution und erzählt ausführlich die Details hinter der weltweiten Bewegung der Cypherpunks.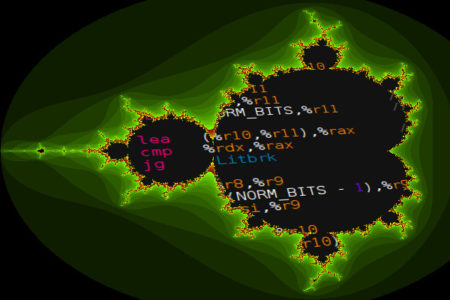 Codeschnipsel hinter einem Fraktal, gefunden bei cypherpunk.at
Bekannte und ominöse Organisationen finden darin genauso Erwähnung wie wertvolle Köpfe und Namen der Repräsentanz von heute wie damals. James Ellis, Walter Koenig, Clifford Cocks, Whitfield Diffie, Martin Hellman, Ralph Merkle, Ron Rivest, Adi Shamir, Leonard Adleman, Martin Gardner, David Chaum, Timothy May, Vernor Vinge, Phil Zimmermann, William Gibson; um nur ein paar wenige zu nennen. Frauen sind hier wie überall in der IT leider chronisch unterrepräsentiert.
Es lohnt sich nach dem (künstlichen) Hype 2017 tiefer in diese Materie einzusteigen, auch um eventuelle Tiefschläge im Handel mit Kryptowährungen vermeiden zu können. Der nun folgende Auszug sei daher jedem IT-Interessierten wärmstens ans Herz gelegt, eignet sich hervorragend als Lesestoff über die Feiertage:
http://projects.csmonitor.com/cypherpunk.
Und jetzt seid brav und verschlüsselt eure Emails und löscht bitte WhatsApp!
Frohe Ostern!
Viel Spaß beim Eiersuchen!