Dieser freundliche Herr hier ist Masayasu Ito: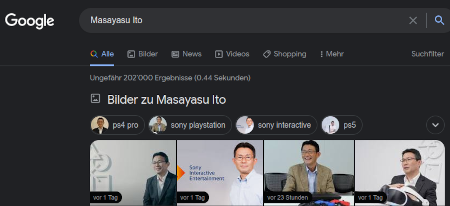 60 Jahre alt. Seit 1986 bei Sony. Leiter der Entwicklung der PlayStation 4. Leiter der Entwicklung der PlayStation 5. Vizepräsident von Sony Interactive Entertainment. Ein wahrer Über-King of Gadgets aus Japan!
Wir verlieren ihn. Ab dem 1. Oktober ist er weg, leider.
Denn Japan ist ein paradiesisches Land, wo die fleißigen Arbeiter ab 60 in Rente gehen dürfen. Und leider geht er nun in Rente. Ich werde ihn vermissen! Und Millionen PlayStation-Zocker wohl auch.
Spätestens bei der PlayStation 6 werden wir alle wissen, wie wertvoll er war. Und sollte entertainmenttechnisch die nächsten Jahre alles den Bach runter gehen von Sony, wir wissen, woran es lag. Ich wünsche es nicht, aber der Realität war schon immer scheißegal, was wir uns wünschen.
Sayonara, Ito-San! You will be missed. Take care and try to enjoy your pension.