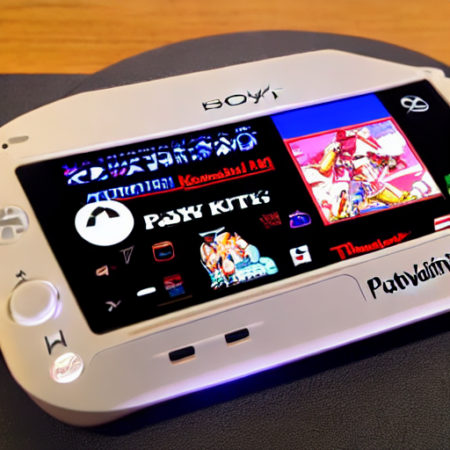 Sieht so bestimmt nicht aus: was meine Grafikkarte aktuell dank Stable Diffusion "denkt", wie der neue PS5-Handheld aussehen könnte…
Dem Erfolg des Steamdeck (und den vielen mittlerweile erhältlichen Handheld-Klonen) ist es wohl zu verdanken, dass Sony offiziell über einen Nachfolger einer tragbaren PlayStation nachdenkt:
"A new report details the PlayStation Q Lite handheld device, which is still in its QA testing phase. The new handheld device is described as a PlayStation 5 DualSense controller with an 8-inch LCD screen in the middle, but the catch is that it will only work with Sony's PlayStation Remote Play." [via]
1080p und 60FPS bei "Projekt Q" in allen Ehren, aber wer wird einen Handheld zocken wollen, der keine eigenen Spiele abspielen kann und nur mit Internetanbindung funktioniert? Ich nicht.
So wie sich das anhört wird das lediglich ein fancy neues Controllergadget sein. Irgendwie auch hardcore kopiert von Nintendo bei der Wii U – mittlerweile auch schon antik und aus 2012.
Sei's drum, Ende 2024 wissen wir alle mehr. Bis dahin wollen die Japaner die Hardware veröffentlicht wissen. Dann brauchen wir uns auch nichts mehr zusammenfantasieren (lassen) wie oben.