"A Journal of the Plague Year: an Archive of CoVid19"
Seit knapp zwei Monaten gibt es ein von den Universitäten Hamburg, Bochum und Gießen initiiertes einzigartiges Public-History-OpenSource-Webprojekt, das cornonarchiv.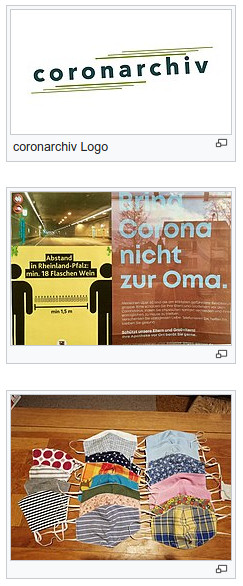 Auch wenn Public History schwer zu definieren ist, lässt sich der Sinn des coronarchiv wie folgt zusammenfassen: was digital vorhanden ist und während der Coronavirus-Pandemie an Inhalten erstellt wurde, kann jederzeit von uns in das Onlineportal hochgeladen werden.
Beispiele für solche Inhalte: Texte, Tagebücher, "Corona-Collagen", Briefe, E-Mails, Gedichte, Artikel in Zeitungen und Zeitschriften, Einkaufszettel, Einladungen (bspw. zu "Corona-Partys"), Einsatzberichte, Aushänge, Warnhinweise (bspw. zur räumlichen Distanzierung), Verordnungen sowie Fotos, Zeichnungen, Bilder, Videos, Aushänge, Speisekarten, Chats, Social-Media-Posts bis hin zu Sprachnachrichten, Songs und Lesungen, etc. pp.
Ziel: eine möglichst vielfältige Dokumentation, sowie Gewährleistung von Pluralität und Diversität zukünftiger Erinnerungen. Oder: einfach als Individuum auch mal Teil der Geschichte werden, während sie ums uns herum passiert.
Ich bin starker Befürworter dieses Projekts und kann nur eindringlich hinweisen: beteiligt euch vielfältig und zahlreich! Gewünscht hätte ich mir diese Art von Onlineprojekt allerdings schon viel früher, etwa zum NSA-Skandal (2014), zur Finanzkrise (2008/2009), 9/11 (2001), BSE-Skandal (90er Jahre); Themen hätte es mehr als genügend gegeben und die Technologien standen uns in diesen Jahren auch schon zur Verfügung. Verpasste Chancen, wenn ihr mich fragt.