Verabschieden wir uns von der Einzigartigkeit des DNS-Code: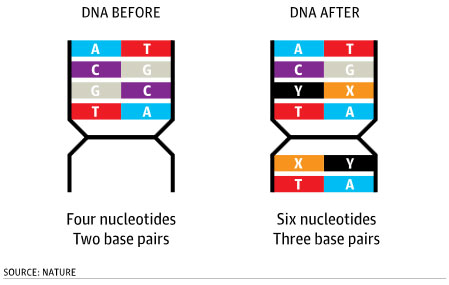 Die Moleküle, die Leben erschaffen, sind nun nichts Besonderes mehr.
Erschien in meinem Lieblings-Blatt: http://theguardian.com/world/2014/may/07/living-organism-pass-down-artificial-dna-us-scientists.
Die zwei Basenpaare die das Leben ausmachen sind im Normalfall G-C und T-A. Dann kommen ein paar Amerikaner und klatschen X und Y dazu, 100% synthetisch, die auch vererbt werden. Funktion: Derzeit? Überhaupt. Keine.
War bestimmt superst wichtig, dieser Job, gerade in der heutigen Zeit. Ich sehe ein paar Skelette in die Hände klatschen.
Auch interessant ist, was es für Anwendungsgebiete geben _soll_, wenn dieses X-Y Basenpaar doch mal mit Funktion(en) gefüttert wird:
DRUGS.
Drugs, drugs, drugs, all we need is drugs! More of them! Now! Die Pharmaindustrie braucht Geld, nein, G.e.l.d., noch mehr, noch viel mehr!! Yeah, wer würde diese Vorstellung nicht lieben!? Ernsthaft: In dem Artikel kommt _kein einziges_ weiteres Anwendungsgebiet mehr vor. Kein. Einziges.
Dafür, es ist der Guardian, wenigstens kritische Stimmen:
"…concerns that scientists could create artificial organisms which could then escape from laboratories and spark an environmental or health disaster"
Halb so wild! Oder:
"…organisms carrying his "unnatural" DNA code had a built-in safety mechanism. The modified bugs could only survive if they were fed the chemicals they needed to replicate the synthetic DNA…"
Die Gesellschaft ist gefordert, aber wie immer wahrscheinlich komplett über-fordert:
"Society needs to understand what it is [synthetic biology] and make rational decisions about what it wants."
Nett: Geht auf die Straße und fragt die Leute, für was die Abkürzung DNS steht! Es wird ein trauriges Umfrageergebnis geben.
Die dümmste Idee, die die Natur je gemacht hat? Der Mensch. Da fällt mir noch ein Zitat von Neil deGrasse Tyson ein:
"One of the best pieces of evidence for why we haven't been visited by aliens is that they have actually observed us and concluded there is no intelligent sign of life on earth."
Der Punkt ist, man bräuchte keinerlei synthetischen Schwachsinn, nicht mal die Vorstellung davon, wenn wir im Einklang mit der Natur leben würden und/oder diese wirklich verstanden hätten.