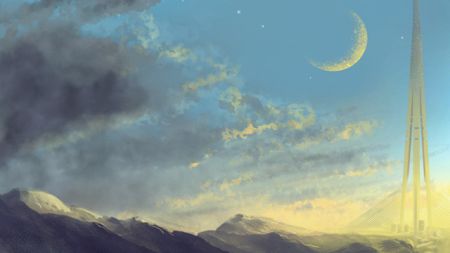 (Illustration: Michael Evans)
Geht es nach der Obayashi Corporation, einer japanischen Baufirma, dann wird Japan bis zum Jahr 2050 einen eigenen Weltraumaufzug haben, der Passagiere bis in 36.000km Höhe bringen kann.
Durchsetzbar wird das durch Karbon-Nanoröhren, 20mal stärker als Stahl, die als Seile für den Aufzug verbaut werden. Mit einem Gegengewicht in 96.000 Kilometer Höhe, das entspricht 1/4 der Distanz zwischen Erde und Mond(!), kann der Endbahnhof über Wägen dann erreicht werden, wobei 30 Leute in einen dieser Wagen passen, die dann mit 200km/h hinaufrasen.
Die Kosten allerdings sind nicht bekannt:
"At this moment, we cannot estimate the cost for the project. However, we'll try to make steady progress so that it won't end just up as simply a dream."
[via]
Schon gewusst: Der Traum eines Aufzugs in den Weltraum ist noch gar nicht soo alt. 1895 war es der Russe Konstantin Ziolkowksi, der, inspiriert durch den Eifelturm, vorschlug, einen "Weltraumturm" zu errichten. Noch mehr zum Thema: http://de.wikipedia.org/wiki/Weltraumaufzug.